Creative marketing strategist & copywriter
Creative marketing strategist & copywriter
Helping small businesses take action to find clients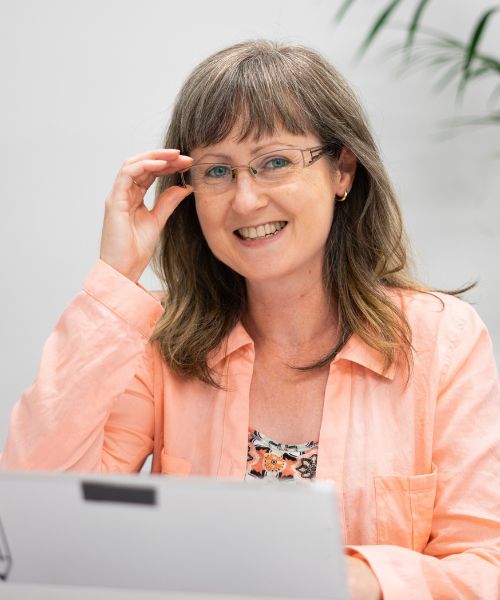 Hi, I'm Jenny
If marketing's a mystery for you, let me help! You're in the right place to learn where and how to promote your business to attract more leads.
Being curious and creative, I love finding ways to connect my clients with their potential clients. I can't wait to explore how I can help you reach more of the people who need you.
Let's work together so you can:
understand what motivates your clients to buy from you,
break the big marketing picture down into actionable steps, to get going right now,
pull "market my business" out of the too-hard basket, with support every step of the way.
 Let me help you take control of your marketing with:
A plan for attracting clients
We co-create your Marketing Foundations in three steps:
Ideal Client Profile: uncover the motivations – and potential objections – of the people you want to work with.
Marketing Action Plan: we'll discover opportunities and prioritise action steps to reach them.
Content Strategy: you'll have the framework and tools to share your message online consistently, to attract new leads and retain loyal clients for your business.
Content to attract clients with
Sometimes you need an expert to turn your ideas into compelling writing that connects with potential clients.
That's where my copywriting and content creation packages come in.
Let me write your
Blog posts
Website copy
Email sequences
and other materials to promote your business
Support and accountability
And sometimes, you simply need a professional you know and trust to keep you moving forward.
My strategy sessions are available when you need some help to plan the best use of your marketing efforts.
Book a strategy session when you need help with tools, knowledge and confidence, or motivation to stop putting off your marketing!
Professional memberships and affiliations
I don't claim to know everything there is to know about marketing, but I spend a lot of time learning from people who know more than I do.
There's more than one kind of copywriter.
I'm a copywriter who works with solo and small business owners. I write easy-to-read content designed to help you attract the kinds of clients you want to work with.
I understand the frustration of knowing what you want to say, in your head, but not getting the words out!
I work with you to find out what's important to you, who you want to connect with and what problem you solve for them.
I write copy for marketing
Some of the things I'll write to help you say what you mean, include:
Websites
Communicating your value to potential clients can be tricky. I'll help put your ideas into words that inspire web visitors to become your clients.
Blog posts
I'll help you come up with topics and then write the articles that show your audience your deep knowledge and insight, attracting more interest in your business.
Email marketing
Retaining an engaged audience means offering value. I'll write your email sequence to warm up potential clients to know your brand and get you started with value-packed newsletters.
Business profiles
With a well-prepared company profile, you can harness LinkedIn to maintain your network and find potential clients. I'll help you get set up.
Work with a like-minded, values-based professional
Connect
Building a business-owner mindset is a challenge.
And running a small/solo business can be isolating.
You're connecting with someone who 'gets it'.
I'm aiming to shortcut that process for you and solve your business marketing frustrations.
Collaborate
A solo business doesn't have to be a solo effort.
You can enjoy the benefits of collaboration with an experienced and versatile marketing professional.
I also collaborate with other specialists in my network to bring you the right expertise at the right time.
Communicate
We'll be working together on your business messaging and marketing approach – with less jargon and more laughs.
I have insights to share and am a great sounding board for ideas.
Constructive feedback and accountability check-ins will keep you on the right track.
"Jenny is able to hold the big picture and then break it down into workable chunks. And all along the process of the project, she empowers the client by educating them on each component of the process, as well as coming up with new possibilities to extend my services beyond where I had imagined."
Articles I've written about things my clients are interested in
You're not alone on this solo business 'journey'You started your solo business to do your own thing. You don't miss the 'group-think' from your past company role, although leaving the team environment was hard. But do you think business is supposed to be done solo?...
Steering your own ship now? 3 tips to make your EOFY review work for you When I started my business, the idea of an end of financial year review made me die a little inside. I just don't get meaning out of figures on a page. I'm all about the people that I'm helping...
Staying on track with our goals relies a lot on us knowing our own motivations. It turns out, adulting can involve a bit of trick or treating too.
Book a call with me
To find out whether I offer the kind of marketing and copywriting support that you have in mind for your business.