Who is Jenny Lindsay?
A productivity buff who loves a challenge.
One of my favourite things to do is explore different ways service providers can engage with clients, so you can seize more opportunities to make an impact in your clients' lives.
I love seeing this difference you make, so I do everything I can to help you.
As a small business owner myself, I understand the challenges you face with a lack of resources, and cash-flow. I've managed to turn 17 years' experience in executive level admin and marketing support into a thriving business that supports multiple clients. When you work with me, you'll get someone who's accountable, attentive and efficient.
You're committed to your purpose, and I am too.
I've committed my life and my career to making a positive impact in both paid and volunteer positions within the community sector and the Australian Public Service. I know how to use digital marketing techniques as tools to inspire and create change. I know what works to build brand awareness and generate community support.
Your industry is fast-paced, but so am I.
My versatility makes me the perfect silent partner in your business. I can convert difficult corporate reports into engaging and easy to read information for your clients, making it easy to connect with them. I can help you develop your marketing narrative, to build a brand that compels people to become emotionally invested. I can provide the meaningful help you need, with a level of detail you wish you had before.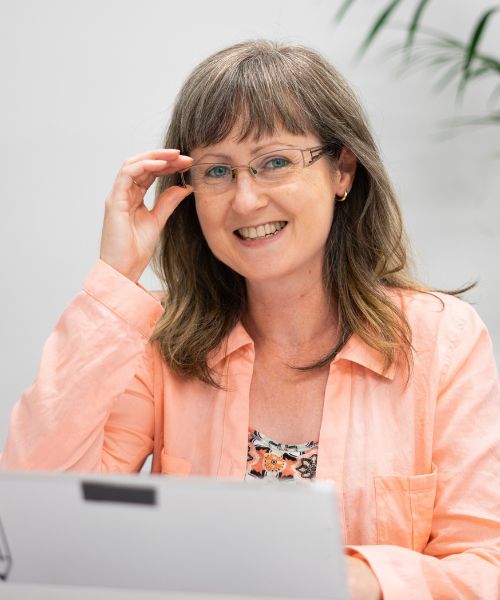 Empowering Community-minded Businesses to Achieve Their Goals
My commitment to your success takes the stress out of the everyday running of your business. My clients love that I'm proactive, suggesting new opportunities. I work best when we're collaborating, working toward your business objectives, supporting you to grow your business your way.
I'm a versatile marketing professional based in Melbourne Australia, and can work remotely with businesses anywhere. We can meet via phone or video call and keep in regular contact so we're adapting and aligning your marketing activities with strategic goals.
Make the most of your marketing with professional support, strategy and activation.
How do we make it happen?
1.  Connect – via email, Zoom or phone to discuss your needs for messaging, marketing strategy, or other marketing services to help your business grow
2.  Collaborate – to create your custom package, so you can reach your goals with minimal fuss
3.  Communicate – once I know you and your business, you'll get regular updates on projects so you can meet your deadlines
4.  Coordinate – Using proven systems (or adopting yours), I can coordinate and manage multiple projects and tasks
5.  Cultivate – relationships between you and your clients by crafting messaging that provides a quality customer experience
6.  Control – shared documents, collaboration tools and clear project deliverables mean you're in control of your business marketing.
Who I work with
In marketing, communications and admin coordination, I've helped a diverse range of businesses achieve success: from sole traders and small businesses, to social enterprise teams, government and community organisations.
Marketing strategy: Solo service providers, consultants, writers, editors, allied health professionals
Copywriting and desktop research: Communication experts and freelance copywriters
Content creation and event support: Social enterprise and community organisations
Content creation and document preparation: Sustainability and Wellness initiatives
Generalist admin coordination and team support: Corporate teams, in HR, Finance, Property and IT
My Qualifications
The Recipe for SEO Success Online eCourse (2017)
Marketing Diploma with Southbank Institute of TAFE, Brisbane (2016)
Corporate experience in Australian Public Service from (1999 to 2016)
Human Resources Management Diploma with Brisbane North Institute of TAFE (2013)
Bachelor of Asian Studies with Australian National University (1997)
Volunteering experience in career coaching and mentoring, events marketing, admin support (from 1997)
Professional memberships and affiliations
I don't claim to know everything there is to know about marketing, but I spend a lot of time learning from people who know more than I do.
Book a call with me
To find out whether I offer the kind of marketing and copywriting support that you have in mind for your business.